Privacy Policy, Disclaimer, and Asyra Consent
We strictly enforce patient confidentiality and HIPAA guidelines. The patient and any other person responsible for payment has the right to refuse to pay, cancel payment, or be reimbursed for payment for any service, examination or treatment performed as a result of and within 72 hours of responding to the advertisement for free, discounted fee, examination or treatment
As we have some open therapy areas, if you feel uncomfortable discussing an issue there, please ask for a private consultation room discussion.
MOST INSURANCES ACCEPTED AND FILED DIRECTLY. We treat most muscle, joint and nerve related injuries including pain that may be due to Auto Accident Injuries, Slip & Falls, Work Related Injuries, Sport Injuries, and long term arthritic disorders. We provide Holistic Wellness & Preventative Care. Physical Therapy scripts accepted. Onsite Asyra EDS for needless laser Acupuncture and homeopathic energy treatment. Immediate Appointments Available.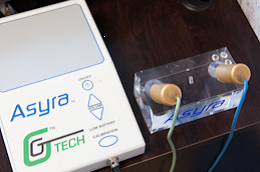 Asyra Consent form
ASYRA Bioresonance
Electro dermal Acupuncture/Homeopathic Evaluation and Treatment Patient Consent
The Asyra is a FDA registered EAV (Electro Acupuncture according to VOLL) device that noninvasively, and at no risk to you, screens for energetic imbalances that reflect imbalances in your physiology, and/or the presence of toxicity. The manufacturer's description of the device is available below. In Asyra testing, you are energetically connected with the Asyra software as you grasp two metal bars. Thousands of individual frequencies, corresponding to physiologic conditions or toxins, rapidly course through your body. If an applied frequency encounters a molecule that shares its frequency, then "resonance" occurs, such that the return signal of that frequency will register as a voltage drop. This signifies that the entity "looked for" by the specific frequency is present in your body. The Asyra software sends in signals that cause the body's meridian networks to "work together", allowing toxic foci to be identified. This concept, which combines concepts of Homeopathy, Physiology, and Quantum Physics, is new to this medical practice, but it is not new.The Asyra is the culmination of decades of research and experience, building upon the work of Dr. Voll over half a century ago.Practitioners who I respect have found the Asyra to be quite helpful, and I anticipate that utilization of the Asyra concept will elevate the outcomes of our patients beyond that available with our current best practices. The Asyra will register frequency imbalances corresponding to physiologic abnormalities, and will then suggest therapies, pharmacologic or nutritional, that will "balance" the problems identified. These frequencies can be imprinted into a homeopathic carrier medium, which will then take as sublingual drops. There is the potential for a detox reaction with intake of the sublingual drops. Your insurer will not cover the cost of the Asyra evaluation or the imprinted drops that are generated. Payment will be your responsibility and is requested at or before the time of service. I, _____________________________________________________________________, wish to be evaluated with the Asyra technology and be treated with imprinted homeopathic frequencies generated by the device. I have been given the opportunity to ask questions and understand that my insurer will not cover the costs involved and that payment is my responsibility. _____________________________________________________________________________________________ SignatureDate
Experienced Margate Chiropractor Russ Tannenbaum, D.C., P.A. located at Northwest Medical Center Plaza, Suite 305, South of Sample on the west side of 411. Chiropractic Acupuncturist Homeopath and Asyra 33063 33070 33067 Coconut Creek