Williams Low Back Exercises for alleviation and prevention of pain.
By Margate Chiropractor Dr Cliff Fruithandler demonstrated by Nick Player RPT student from Nova.
If you have recurrent lower back problems doing these simple exercises on a daily basis will help prevent reinjury. Regardless of whether your problem started as a automobile accident, picking up the kids or a sports injury, once the back is injured it never becomes 100%. These exercises will help you to get closer to 100%. If you had a choice of being the casino, or being the gambler everyone chooses the Casino, statistically they win more than lose. If you do these everyday, statistically you will be the Casino, you will have more good days than bad.
Follow the program. Initially go gently, and with each day increase the amount of stretch. Start doing them 3 times per day for several weeks until they are easy. At this point in time you have acquired a good habit. Continue at least daily at the time of day that works best for you. If you wake up with a sore back, do them before getting out of bed in the morning.
The pelvic tilts can be done anywhere. My recommendation is to do them when you are stopped at a red light. The first light hold for the entire time. The next light do quick repetitive thrusts (as long as no one is looking). On the next video we will show you exercises for the car and plane. IMPORTANT: If this or any other stretch/exercise causes pain, tingling, numbness or other abnormality discontinue and contact our office immediately. The exercises/stretches contained within this website are solely for the use of existing, active patients of our clinic who have received a prescription for these exercises/stretches. Other individuals do not have our permission to perform the exercises/stretches contained within and should not attempt to do so. Attempting to perform these exercises/stretches, unless explicitly prescribed by our office, could result in serious injury or a worsening of existing conditions.
Posture can be changed, but only by yourself. These simple exercises are a good start. Do them daily. To ensure success do them 3 times per day for the first 2 weeks. Then continue at your favorite or 'best' time. Add the following to your routine and success is yours. When it comes to antiaging, these will do more for how you feel and look.
Click below or find them on the tool bar to the left.

Shoulder Door stretch for posture improvement and relaxation
Alexander Sitting Posture Exercises
If you like the video above, we love to share specific techniques that can be done at home thereby educate our patients on how to reduce and prevent health issues including lower back pain, neck pain, car accident injuries. Exercise is to Chiropractic what fluoride is to Dentistry.
What's the best way to choose a chiropractic office / chiropractor / massage therapy / or acupuncture office in Parkland, Coral Springs, West Boca Raton, Boca Raton, Deerfield Beach, Coconut Creek and Margate area? Go to the Broward County Chiropractic Society website where dedicated local professionals offer information on their practices. Every health Practitioner is different, offering a variety of methods to help you. Intuitively you will find the Doctor for your particular condition. We hope it is with us. If not we will refer you to someone who does have the capability to help you and your specific need.
Please spend some time here exploring our holistic chiropractic and healthy lifestyle web learning. Our philosophy is a patient-centered orientation. . People like you come to see us for a myriad of conditions including whiplash from car accidents, Allergies, Hormonal Imbalances, lower back pain, neck pain, arm pain, shoulder issues, hip pain, knee injuries, leg ankle pain, numbness and tingling in arms or legs, scoliosis, or even headaches and TMJ dysfunction.
Pregnant women who are unable to take drugs seek our chiropractic, massage therapy, and acupuncture care for their aches and pains, as well as an easier labor and delivery. Infants and children who don't respond to conventional care seek gentle chiropractic care to live healthy and grow up without the problems of their parents. They demand a chiropractor who is able to deliver the latest and most up to date techniques for the fastest results.
Athletes ranging from baseball, football, hockey, even MMA and martial artists who want to be the elite in their sport seek our care! We have advanced training to treat athletes and sports injuries, including extremity care and adjusting, we go beyond just treating the spine!
Find Chiropractor in Margate & Coconut Creek Dr Cliff Fruithandler at Northwest Medical Plaza on the south side of the Hospital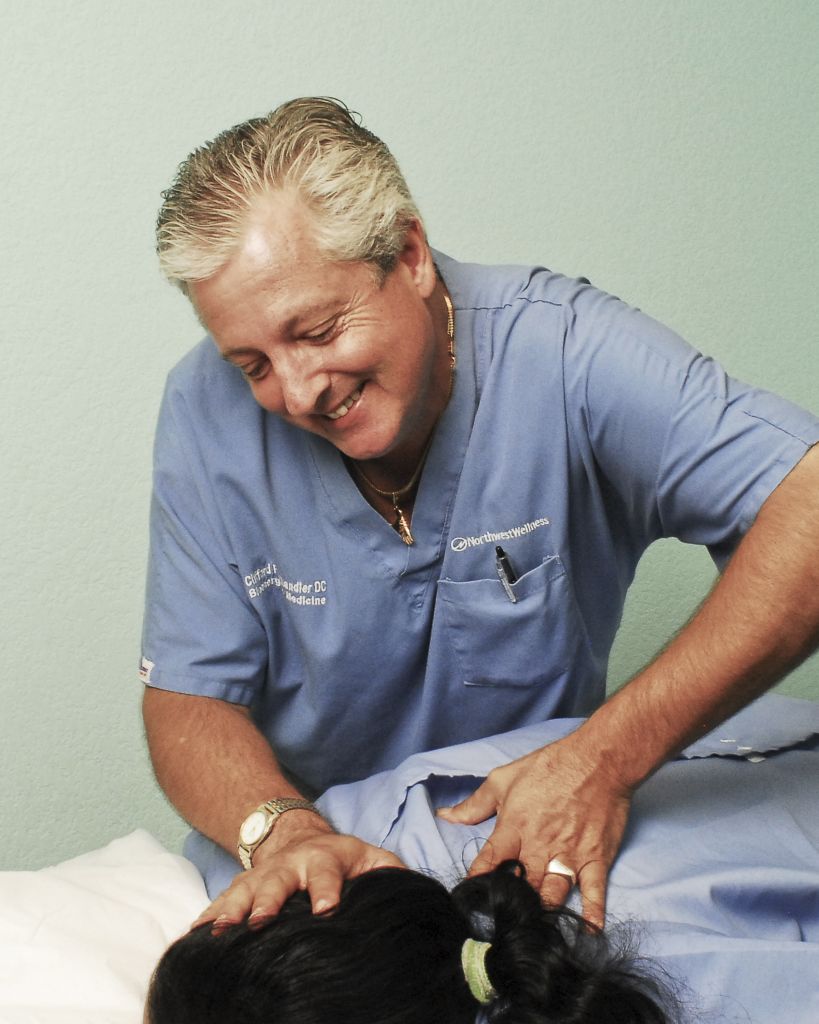 Dr Cliff Fruithandler 30 years experience as the Chiropractor in Margate and Coconut Creek Florida